DYNOcamo: Camouflage Pattern Protective Styling Film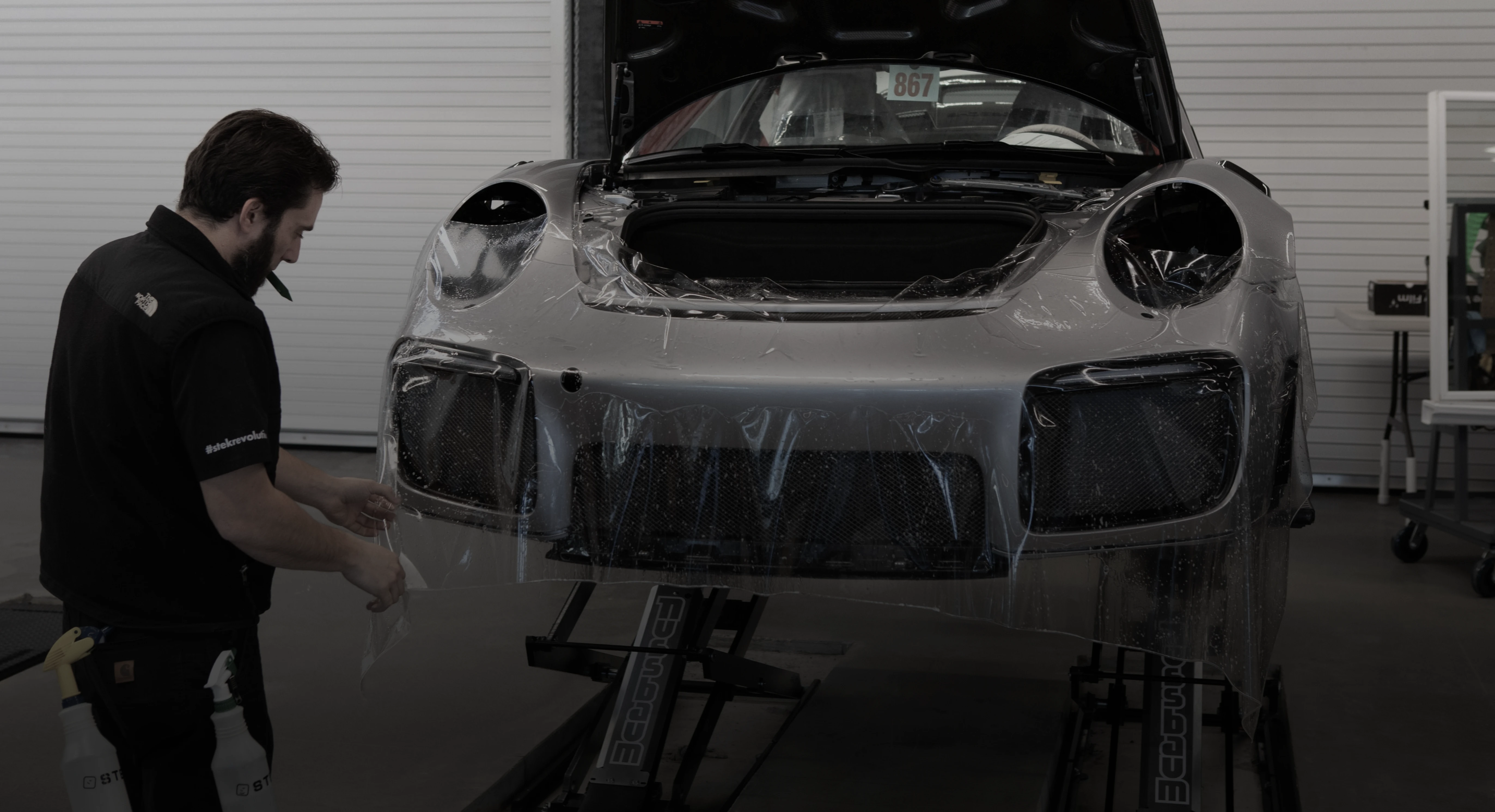 If you've considered vinyl wrap to upgrade the look of your car, you might be concerned that it won't provide enough protection for your vehicle. After all, traditional vinyl wrap is known to rip easily and damage the paint underneath. On the other hand, you wouldn't want something industrial that doesn't look sleek and stylish.
Well, we don't believe you should have to compromise, which is why we developed a fantastic solution that gives you the best of both worlds - DYNOcamo. We want you to stand out, so we're offering two stunning colors - DYNOcamo gray and DYNOcamo black - providing something for all tastes and moods.
An Authentic Style Without Compromising on Protection
Vinyl wraps offer plenty of styling options but no protection for your car. This leaves you vulnerable to rust, peeling, and vinyl wrap jobs that need to be redone sooner than you'd like. Our DYNOcamo paint protection films (PPF) give you the best of both worlds.
They're completely customizable and can fit any part of the bodywork or interior, enabling you to achieve a completely personalized style. Our long-term aim is to replace traditional car paint with our protective styling film, which leaves your car looking new for longer while giving it an extra layer of protection.
The Most Unique 3D Camouflage Pattern
If you're looking for a stunning camo style for your car, you've probably discovered that vinyl wrap and paint jobs often look 2D and cartoonish. Our DYNOcamo PPFs actively combat this problem by providing a sleek, 3D camo style that's guaranteed to make you stand out from the crowd. Our patterns have reflective properties, which provide for a never-seen-before design.
Also, let's not forget that traditional vinyl wrap can often look cheap and destroy your car's aesthetic due to peeling and scratches. This is usually due to bad installation jobs, but with DYNOcamo PPFs, you'll be serviced by experienced installers that have been vetted and authorized by STEK Automotive.
Get More For Your Money With a Self-Healing Film
One of the biggest worries for vinyl wrap users is damage, which ultimately compromises the protection of your car. Scratches leave big openings for water and dirt to get in and cause all sorts of problems to the paint and adhesive.
We wanted to develop a product that would ensure users don't have to worry about spending more money reinstalling the film or fixing the damage. That's why our DYNOcamo PPFs come with self-healing properties, which can repair minor scratches and keep your film looking new and fresh for longer.We also ensure that the product is durable and fit for all your driving needs, so we made it extra strong to withstand tears.
Forget Water Damage With Hydrophobic Technology
Water is a considerable danger to vinyl wrap, as not only does it seep through and damage the adhesive, it can also get trapped in air bubbles and start to cause rust. As a result, not only will you have paint issues, you'll also need to deal with rusting components which can be costly to fix or replace.
To combat this common issue, we implemented a hydrophobic layer to our range of DYNOcamo PPFs to protect your car from water damage. You won't have to worry about peeling or watermarks under the film, allowing your vehicle to retain its value for longer.
DYNOcamo Turns Heads and Protects Your Car From Damage
At STEK Automotive, we're focused on developing new innovative product solutions that enable customers to get the most out of their car's PPF. We believe this should be achieved without compromising on either style or protection, so we created the DYNOcamo range. Customers can enjoy unique, 3D camo designs that offer self-healing and hydrophobic qualities. They're also strong enough to withstand tears and keep your car looking pristine. With DYNOcamo, you can enjoy the best of both worlds in one single solution.