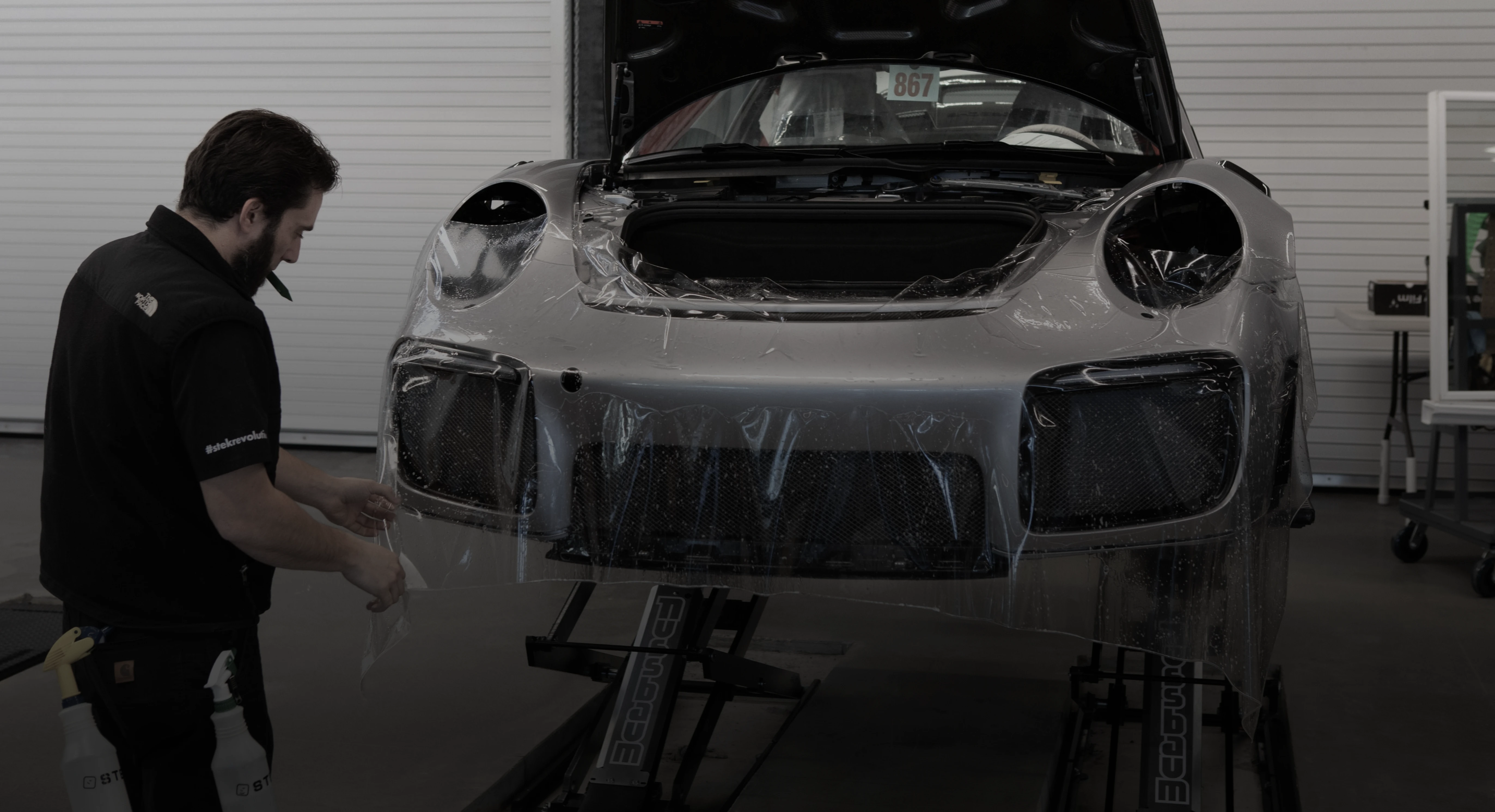 From Formula Car Care to PPF and Windshield Protection
To kick off the new year, this 2022 BMW X3M Competition finished in Marina Bay Blue came into Parks Detailing for our Driver's paint protection film package as well as a paint correction and full exterior/interior coatings option. This is the perfect service for those who wish to perfect their paint and enhance the overall appearance of their vehicle while adding premium protection to keep it looking brand new for years to come.
Seeing as this new vehicle like many others, suffered from an array of light defects, haze, and holograms, we were excited to see the improvement we would be able to make using the entire STEK Formula product range. Read on to see the transformation and follow our process!
For decades STEK has been providing paint protection film solutions and now through STEK Formula, they have solutions to easily maintain and detail your vehicle too. These products were designed by the minds behind one of the best paint protection film suppliers in the world, meaning their products are intended to be safe for paint and many other substrates, including paint protection film commonly known as PPF!
Exterior Formula Car Care
This high-performing range consists of nearly every maintenance product you can imagine, and better yet they are appropriate for both professional detailers and the everyday consumer alike.
To kick off this service with a decontaminating pre-soak, we elected to use STEK 05 Foam in our MTM Hydro PF22 Foam Cannon. Using the preferred mixture ratio of 10 parts water to 1 part Foam, we were able to produce a thick blanket of foam over the entirety of the car.
During the soaking process, we noted the STEK 05 Foam's powerful surfactants lifting dirt and debris effortlessly. This allowed for the rinsing process to remove a significant amount of contaminants from the surface helping limit any further damage to the paint once we introduce the washmit.
Moving on to the hand wash, we used STEK 06 Shampoo in our two bucket wash system. STEK Shampoo provided a healthy balance of lubrication, cleaning power, and easy rinse ability. These impactful characteristics resulted in a paint surface which was spotlessly clean and contained zero residue after rinsing.
Because this BMW was being prepared for polishing, it was necessary that we performed proper paint decontamination beyond a through handwash. 
The massive calibers and ceramic brake pads equipped on this X3M and many other sports cars, leave hard to remove iron deposits on the paints surface and to remove these iron contaminates, we performed an additional chemical bath with STEK 09 Iron.
After misting the panels, and allowing the chemical to dwell on the surface for a few minutes, we successfully removed and neutralized the iron deposits and corrosive agents still on the paint. The STEK 09 Iron was fast-acting and then turned to a violet color indicating the reaction was complete and decontamination successful. We then rinsed this off with our pressure washer.
Next up we started our mechanical decontamination using STEK 10 Lube and a mild clay bar. Like many products in the STEK Formula line, STEK 10 Lube is a concentrate. Following the recommended dilution for claying, we applied a liberal amount of lubricant to the surface and began clay-baring.
The lubrication provided by STEK's solution was incredibly slick and allowed the clay bar to glide effortlessly; easily removing the remaining surface contamination.
As this vehicle was brand new, we went one step further and used STEK 08 Tar & Adhesive in select spots around the car to remove the adhesive left behind from the factory protective wrap that comes on new vehicles during transportation. STEK's 08 Tar & Adhesive Remover has a light citrus smell and an impressively strong effect to quickly brake down the remaining adhesive making it one of our teams favorites of the lineup!
It was then time to prepare the forged wheels and 6 pot calipers for our ceramic coating service, we safely and completely removed the wheels from the vehicle and prepped our dedicated wheel wash bucket. We chose to use STEK Formula 04 APC at a 1:10 dilution for our wheel bucket solution as a versatile all-purpose cleaner that acts fast, deeply penetrates, and breaks down oil, dirt, and stains (this works great on paint and glass surfaces too).
After the first wheel wash was completed, we brought out STEK 12 Wheel to lead the final charge, lifting any stubborn contaminants away from the surface, while the incorporated iron remover neutralized contaminant buildup deep within the wheel and wheel well. Once the wheels and calipers were chemically and mechanically decontaminated, we ceramic coated them for long-lasting protection. 
After successfully detailing and protecting the wheels and tires, we moved back to the BMW body. 
With decontamination complete we were left with one simple step prior to starting our polishing process, a surface degreaser wipe down. Using STEK 11 Pure, we were able to ensure the dissolution and removal of embedded sealants, waxes, and other oily residues, leaving behind an impeccably pure surface. STEK 11 Pure is incredibly powerful while also providing enough lubrication to wipe even the most delicate paintwork without scratching.
We then examined the paint meticulously with dedicated detailing lights, and evaluated what was needed to perfect the paint. We decided to perform a multi-step paint correction to remove the unsightly paint defects such as oxidation, haze, moderate surface scratches, factory rotary sanding marks, and holograms to achieve an extremely smooth clear coat. 
After the paint correction stage was completed, FORMULA 11 Pure was used once more to remove any remaining compound residues and leave a squeaky clean surface that is ready to be sealed and protected.
Paint Protection Film and Windshield Protection
The owner of this BMW X3M opted for our drivers package PPF coverage for the best peace of mind on a car that will be driven hard, so we applied STEK's 10-year DYNOshield to the hood, front bumper, headlights, fog lights, fenders, mirrors, a-pillars, and lower rocker panels. 
To take the protection to the next level, we then applied STEK's DYNOflex windshield protection film to keep the windscreen free of any potential stone chips and cracks to maximize peace off mind for this client both on and off of the road.
We use custom and thorough processes for each of our STEK film installations for the most invisible coverage possible. We disassemble small parts such as the grill, A-pillar trim, hood emblem, and corner reflectors so that the film can be wrapped around each edge. This results in a seamless appearance with no areas left unprotected.
Before the DYNOflex can be installed, we used STEK Oil-X to prep the glass for the film installation. This STEK product is designed to strip the glass of any oils or sealants that may hinder the film application.
Now the STEK DYNOflex was laid out over the windshield. Our installers squeegeed the excess moisture from under the film, then trimmed, and wrapped all the edges around the glass to concluded the film coverage on this M series.
After Care Solutions
STEK 19 Cure was then used on the DYNOflex protected windshield. Cure is STEK's aftercare solution for protected windscreens, not only as a cleaner that will decontaminate the film, Cure also works to enhance the hydrophobicity and keep the film crystal clear.
After all of the paint and windshield protection film was installed, we took the exterior protection one step further by applying STEK's Formula Quartz coating to the full vehicle. Although it was designed to be a safe coating for PPF, this silky smooth coating is also safe to apply on virtually every exterior surface, including the DYNOflex, glass, and paint. STEK's coating will add intense gloss, hydrophobic properties, and provide incredible ease when cleaning any surface it is applied to making it an easy choice for those wanting to keep their vehicle looking new.
Formula Quartz is applied in small sections at a time, using a criss-cross application method to ensure proper depth and coverage. We then allow the coating to sit, commonly known as 'flash' for 2-3 minutes, during which time the coating begins to produce small beads on the vehicle's surface.
These beads are a tell tale sign it's time to level the coating using a proper microfiber removal towel. Leveling is a crucial part of any coating installation, ensuring the coating is spread evenly across the paint, as to avoid "high spots" or areas where the coating is inconsistently layered. We take our time with extreme attention to detail to make sure we get the smoothest and most level results.
While we left the Quartz coating to cure, STEK 13 Dressing was applied to the tires to restore a like-new appearance. This water-based tire dressing is effortless to apply, spreading with ease and drying evenly to produce a wonderful matte shine.
To top off the incredible protection provided by STEK Formula Quartz, we gave the vehicle a quick wipe down with STEK 16 Finish, the product range's Si02 quick detailer. Seeing as this product is a concentrate, we used the suggested dilution ratio for dark colored vehicles of 1:4.
Finish was applied with a simple spray on, wipe off method, and provided additional depth and environmental resistance to the paint, film, and coating. This will help protect the top layer of Formula Quartz while the coating continues to bond underneath over the next few days. We have found that STEK Finish also works extremely well when applied wet, making it a great drying aid for routine maintenance washing.
Interior Formula Car Care
After all this attention on the exterior, it was time for us to take a look at the high-end interior. In order to remove light debris and refresh the interior we used STEK 01 Interior cleaner to wipe down the dash, center console, door panels, and door sills. STEK Interior was designed to easily clean virtually every surface on a vehicle's interior, leaving behind a protected and smooth OEM Finish.
We then used STEK 02 Leather to remove any remaining contaminants on the factory M Sport-seats before applying STEK 03 Lotion on the leather to hydrate, nourish, and ensure maximum protection against cracking and fading down the road.
As this project comes to a close, we wiped down the glass one final time with STEK 15 Glass, to be certain of a perfect streak-free look we know our customer will love.
The final results of this in-depth Formula detail and STEK films installation were stunning!