STEK Has Arrived in Las Vegas With Our Biggest SEMA Showcase Ever! (D-1 to SEMA)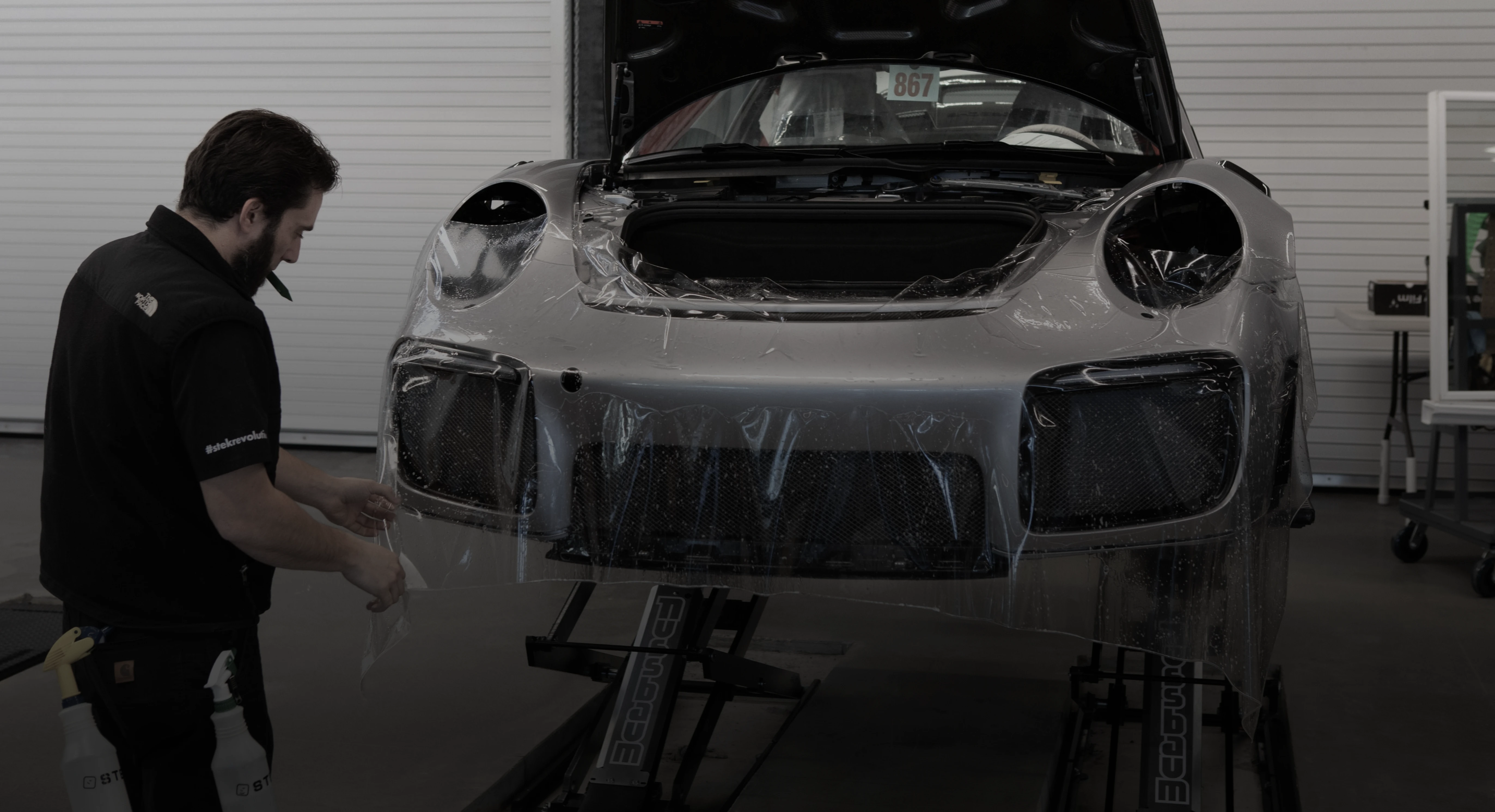 SEMA 2021 is here and STEK Automotive is back with the biggest showcase in our history. In fact, we have a 50 by 50-foot island booth right in the heart of the SEMA floor and we are ready to show off our latest product innovations, display some hot performance vehicles and provide you with valuable marketing insights to grow your installer business.
Stop by our booth #52197 in the West Hall at the heart of the Las Vegas Convention Center.
Locate us in the SEMA 2021 Floor Plan
STEK Continues its commited to growing your installer business with great new products and marketing tools
Here, at STEK, we're all about growing your installer business. That's why we're more than just your standard film company. We're creating innovative PPF and other film products that are designed to make your business grow. Not only that, we continue to build out our marketing tools to give you an edge on the competition.
We know that we can't grow without you. That's why we put so much effort into doing what it takes to build your business. No other film company is looking out for your installer business like us. To help you grow, we use a three-pronged approach that includes customer satisfaction, customer experience, and customer service. Ask us how we can help you to grow your business.
https://youtu.be/_9Rdp8RG8DM
Customer satisfaction that keeps them coming back
STEK is all about putting the customer first. That will bring them back to your installer shop again and again. That includes products that are higher quality, safer, and geared towards what the customer is looking for. 
Customer experience that is unmatched in the industry 
Our team also places a huge experience on the customer experience. At STEK, the customer will feel comfortable using our products from day one. This makes our brand look good and makes you look good. From the customer's initial order to the installation, we have a system in place to put the customer experience first. 
Customer service that's always ready to help 
Finally, we are committed to always being accessible to the client. That includes fast response to questions, all the support needed during the installation process, and care after installation. 
Leading with innovation 
At STEK, we are always moving ahead. That means creating products that are more durable, protective, and easier to install. We are also creating solutions to replace paint with more environmentally friendly color PPFs.
New protective styling film (PSF) products never seen before
Chances are that you have seen lots of Paint Protection Films products in your lifetime. That's why we are excited to show off some products that have never before been introduced in the marketplace. This includes six new Six Exclusive Paint Protection Film Designs to Debut PPF products that offer a higher level of durability and effectiveness for your most demanding clients. We are also offering new PPF designs that create head-turning effects on all types of vehicles. You will be able to view each of these products in our showcase vehicles.
Our PPF line is better than ever. Including our limited edition color shift PPF, DYNOshift -green
Be sure to check our STEK display at the "New Products Showcase " at the South Hall of LVCC
We are debuting three incredible products that we are sure that you have never seen before. Check these out.
1) DYNOFlex - Windshield protection
Our latest-generation windshield protection film is nowhere. If you are looking for the ultimate protection from rock chips, cracks, or the unexpected, then the DYNOFlex is going to be a "go-to" product for your customers. DYNOflex helps vehicle owners significantly reduce the risk of replacing expensive windshields, especially those with Advanced Driving Assistance System cameras and sensors (ADAS). The optical clarity ensures an intact look and clear visibility.
Windshield Protection Film.
2) DYNOforged Carbon
For those fans of carbon, we are debuting our DYNOforged Carbon PPF. DYNOforged-carbon is the newest pattern that is perfect for accenting, Say goodbye to the expensive and the need for a mold. This exciting new product features our latest hydrophobic and self-healing technologies to make it one of the most durable PFF products on the market. Also, the reflective properties of this film are more dynamic and stunning than anything else on the market today.
DYNOforged-carbon, a patter PPF that will make head turn
3) DYNOshift-green
If you are looking for something really stunning, then you will have to check out the DYNOshift-green PPF. We are debuting this amazing new product on our Tesla display. You will want to get an up-close look at the color-shifting properties this PPF offers.
DYNOshift-green, our newest color shift PPF
Grow together with STEK
At STEK Automotive, we are all about growing your installer business. That's why we are rolling out valuable customer growth, customer experience, and customer support tools. It's all a part of our STEKSHIELD program. You will certainly want to see all the ways we can help you get more customers to your business and create a service experience that will generate 5-star reviews and keep your customers coming back.
STEKSHIELD is our digital experience platform to provide our partners the best customer service and experience
You don't want to miss this!
SEMA is a great time to discover new products and techniques that can help grow your installer business. That's why we are bringing all of our greatest thinking to this year's show. As we roll into 2022, you may see a lot of opportunities to grow your installer business now that the pandemic is passing. This is your chance to seize the opportunity and see your business reach new heights. We at STEK Automotive have the products and the tools to help get you there. We look forward to seeing you at our showcase.
Where you can find us?
Going to The  SEMA  Show? Stop by the  STEK booth  #52197 in the West Hall from November 2nd to November 5th!
Locate us in the SEMA 2021 Floor Plan
Frequently Asked Questions
Chances are that you may have some questions about our SEMA showcase. Here are some answers to some of the most frequently asked questions about what you can expect.
What PPF products can I expect to see?
We will have a wide range of PPF products including uniquely designed automotive film with never before seen designs. You will not just see the best paint protection film available, you will also see PPF products that can reflect light in completely unique ways.
Will you have windshield film products available?
Part of our SEMA product rollout will include a new windshield protection film that provides the highest level of protection that we have ever offered. That includes such high converting products such as carbon window film with anti shatter film technology.
What other products can I expect to see?
We will also have clear bra products that you will not want to miss. Not only that, you will find a selection of other products that compliment our PPF offerings.
Where is your showcase located?
We will be located at West Hall 52197. We will be occupying a 50 foot by 50 foot island booth. Trust us, our display will be hard to miss :)
Locate us in the SEMA 2021 Floor Plan
What will I see during your live demonstration?
Great question. We will be showing you how to best install our newest PPF and windshield protection products. Here, you will see our STEK team show off their PPF cutting and PPF installing skills. During our hands-on demo, we will explain the unique features of our STEK products. During our live demo, you are free to ask us anything related to our products and the installation process.
What kind of marketing tools will you be showing off?
Our team has been talking to installers around the world. During that time, we have found that installed business are looking for a three prong strategy: Getting more customers, providing a high customer experience and delivering top customer service. Therefore, we will be breaking down our marketing presentation towards these three areas.